Niagara Jazz Festival returns July 23-26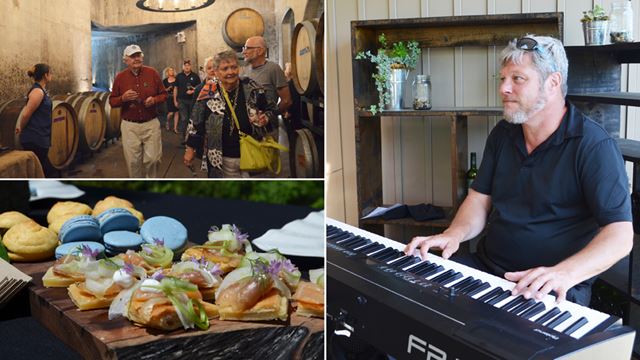 Melinda Cheevers/photos
Niagara Jazz Festival returns for its second year July 23-26, highlighting the region as a great place for live entertainment. The festival highlights Niagara's venues, food and wine as well as jazz music.
Niagara-On-The-Lake Town Crier
NIAGARA — Now entering its second year, the Niagara Jazz Festival is ready to expand.
The inaugural festival was held last year at venues throughout Niagara-on-the-Lake's Old Town. The goal, explains festival founder and executive director Juliet Dunn has always been to expand to other parts of the region.
"We want to make it a truly regional festival, we just had to build up to it," she said.
This year, the festival is making great inroads into St. Catharines, with a pop-up jazz club at Market Square, as well as events at clubs and restaurants around town.
The festival features a mix of ticketed and free events, including the flagship concert featuring Michael Kaeshammer with Ashley St. Pierre Trio at Jackson-Triggs Winery, a daytime concert at NOTL's Simcoe Park and evening pop up jazz club at the Mill St. Market Stage in St. Catharines' Market Square. Dunn said they wanted to make it accessible to everyone and encourage people to check out jazz in any way that's comfortable to them.
To that end, there are several ways to enjoy live music at this year's festival. The Club Series will feature acts at a variety of venues in St. Catharines, Niagara-on-the-Lake and Niagara Falls. Dunn said the club series is a way for them to branch out to other municipalities and allow people to engage with the music in different ways. Guests can pay at the door or purchase a Club Series pass in advance for $25 to access all of the shows.
For those looking to make a full day of it, there's the Anatomy of Wine and Music Tour. Ticketholders can play tourist for a day as they are welcomed to 13th Street Winery with a sparkling reception featuring live jazz. Alex Thomson of Steinway Gallery Toronto will take guests "Inside the Steinway" before Peter Bodnar-Rod talks the Anatomy of the Blend. Andrew McLeod of Bolete Restaurant will offer up food pairings to accompany the wine before guests are shuttled on the jazz bus to the Fiesta Stage at Simcoe Park in Niagara-on-the-Lake for live jazz and dancing. Tickets are $89 and the tour runs from noon to 5 p.m.
Dunn said the surprise hit at the inaugural jazz festival last year was the Dixieland Jazz Brunch, which is back again this year.
"We had to do it this year, everyone loved it," she said. "They love their Dixieland."
Featuring Dinny and the All Stars, the brunch will take place outside at White Oaks Resort and Spa featuring a Dixieland ensemble. Tickets are $59 and it runs from 11 a.m. to 1:30 p.m.
The festival, has since its inception, been about more than just live music. It's a chance for people to learn about jazz and gain a deeper appreciation for it, explained Dunn. To help with that, the educational sessions will return with events on Saturday and Sunday. The Live Learn Jazz Educational Sessions include a vocal master class with Broadsway, a Listeners Guide to Jazz by Mark Micklethwaite from Jazz FM 91, (De)constructing the Archtop Guitar Workshop with Paul Saunders and Jazzy Juniors program with Sophia Perlman. The Saturday sessions take place at the Niagara-on-the-Lake Community Centre with the Sunday sessions happening inside the Niagara-on-the-Lake Public Library, tickets range from $10 to $20.
For a full schedule of events or to pick up tickets, visit www.niagarajazzfestival.com.